Free Youtube to Video Converter
Screenshots of Free Youtube to Video Converter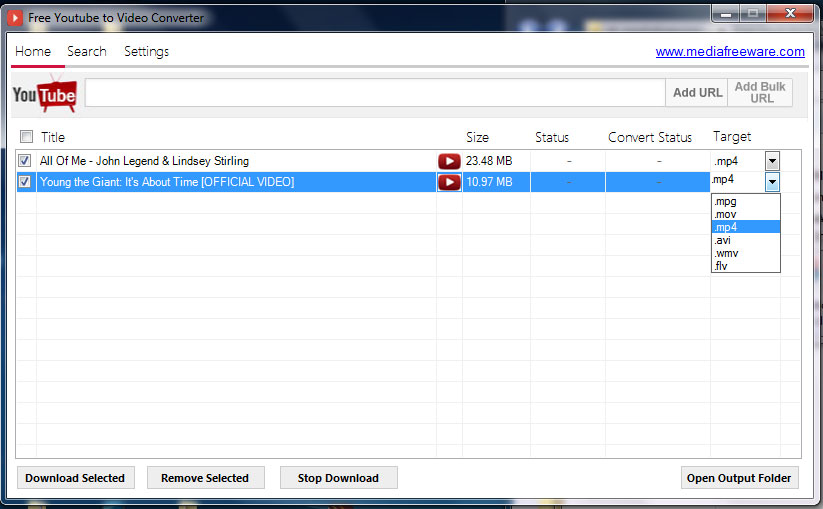 Last update
Licence
OS Support
User rating:
29 July, 2013
Free
Windows XP, Windows Vista, Windows 7
Free Youtube to Video Converter
If you watch Youtube's videos a lot, then you have certainly noticed that you should have a downloader app that can download its videos to your PC. But what about converting? Do you like to convert them to other video formats to be able to watch them on your for example DIVX Player as well? Ok, we introduce you Free Youtube to Video Converter; a great 2-in-1 app for downloading and converting Youtube videos with a high speed and performance. It has many features which make it a great choice for video conversion of Youtube videos. The app can convert downloaded files to many popular video formats like MP4, WMV, AVI, FLV and more. Before downloading any files it verifies the imported link first and if it is a valid Youtube link then it will add the link to the download list. The same thing true when you import a list of links with "Add Bulk URL" button. The links are imported one at a line and processed and added to download list. The Search tab is ready to search for a specific video and add the result to the download list. The app supports multiple conversions simultaneously. You can see the great features for yourself if you give it a try. Some key features of Free Youtube to Video Converter are:
Youtube video conversion to many video formats
Supported formats include WMV, MP4, AVI, FLV and more
High speed conversion
Compatible with all versions of Microsoft Windows
.