Free Youtube to Mp4 Converter
Screenshots of Free Youtube to Mp4 Converter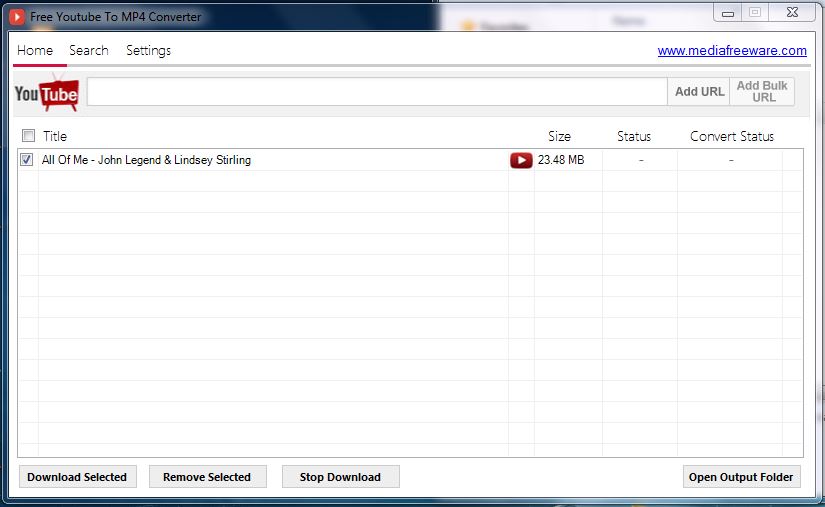 Last update
Licence
OS Support
User rating:
29 July, 2013
Free
Windows XP, Windows Vista, Windows 7
Free Youtube to Mp4 Converter
Free Youtube to MP4 Converter is a desktop application from Media Freeware for downloading and converting Youtube videos. The name says it is a converter but actually it is a 2-in-1 app because it downloads videos from Youtube first and then converts them. So it is a downloader too. The application has a simple user interface but very attractive. The conversion process is pretty easy. You just import video URL and the app does the rest. All imported links are verified for validity prior to downloading. After verifying links, they are added to download list and you can select which you want to download. The app can download and convert multiple files simultaneously and the number of parallel downloads can be changed. So if you have a high speed internet connection then you can increase the numbers. To import many links with one click just click "Add Bulk URL" and import your list of links one at a line. The Search tab is there to search for specific videos and the results can be added to download list. You can stop downloading whenever you want by clicking "Stop Download" button. There is a proxy server setting in the Settings tab in which you can enter your credentials for using a proxy server when downloading videos. The app has many great features which you can see them for yourself. Some key features of Free Youtube to MP4 Converter are:
.