Free Video File Converter
Converting among video formats with Video File Converter.
Screenshots of Free Video File Converter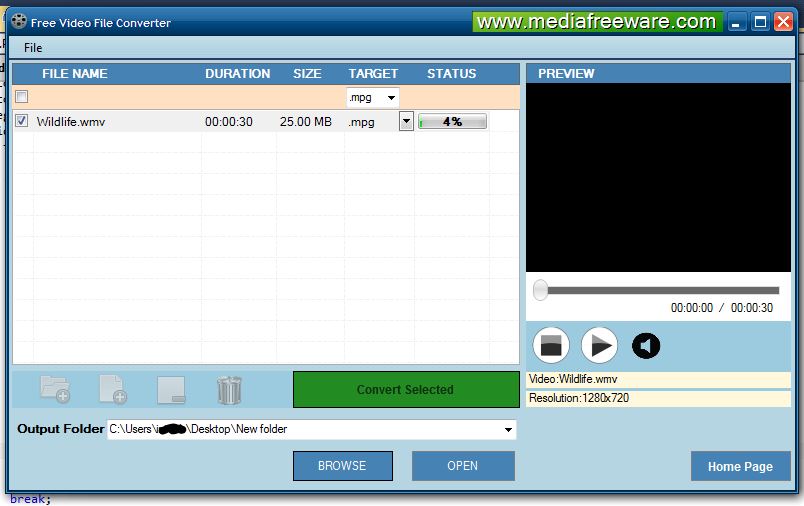 Last update
Licence
OS Support
User rating:
05 January, 2014
Free
Windows XP, Windows Vista, Windows 7
Free Video File Converter
The Free Video File Converter converts videos from one format to the other and supports almost all popular ones such as MP4, MOV, MPEG, AVI, VOB, etc. It is a very useful tool that is multifaceted and yet, has a simple interface. The software is ideal for all such users who have multiple devices supporting separate video files so as to enjoy their favorite files on all of them. It even enables downloading of videos from websites such as YouTube, DailyMotion and Vimeo and convert these into the more popular formats mentioned above, so that they can be played on portable media players with ease. The software allows the user to modify the audio and video quality to make it better and therefore, the experience is much better after the conversion. The Free Video File Converter is also designed to burn video and audio files into DVDs as well. Another feature of the tool is that the files can be clipped and cropped to include only those parts in the conversion that the user likes. It supports almost all mobile devices, iPods, iPads, iPhones, Android and many others. It is a very fast tool that converts any videos in no time so that users can enjoy these with ease. What makes it even better is that it makes batch conversion possible, irrespective of the formats each file is available in. Once the Free Video File Converter is installed on a system, the relevant files need to be selected and the 'Convert Selected' button clicked. There is also a provision to preview the video simultaneously so that the user is aware of the changes. The users have many other options which include adding subtitles, making their own videos by joining bits and edit them as per their requirements.