Free Video Cutter
Cutting videos is an easy task to do with this free video cutter.
Screenshots of Free Video Cutter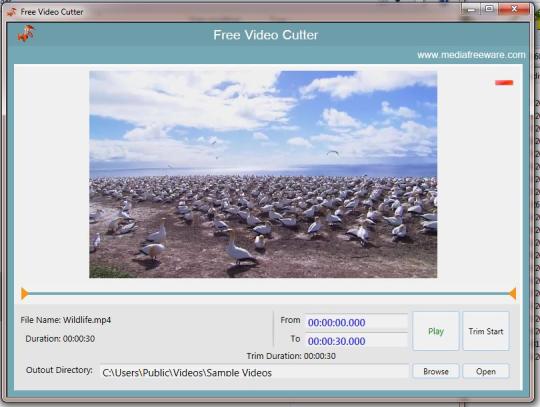 Last update
Licence
OS Support
User rating:
05 January, 2014
Free
Windows XP, Windows Vista, Windows 7
Free Video Cutter
The Free Video Cutter software program is designed uniquely to edit video files. This free software tool is quite simple to use and it helps the users to extract the video clips from various types of videos. The software interface of this tool is quite simple to use and comprehend. The program includes only a few options and it is showcased on a single window. This enables the users to cut the videos in a simple and easy manner. The program supports drag and drop feature and a preview pane which enables users to view the entire process. The simple window also showcases a start and end point so that the users can easily choose the videos accordingly. The program allows the users to check the output folder too. The users can preview and play the videos as required. The entire process is simple and involves only a few steps. The users can load the video clip and select the start and end options in the program. As the program hardly supports a built-in video player, it is essential to input these values manually. The Free Video Cutter performs well with most of the video formats such as 3GP, WMV, AVI, MP4 and so forth. This free program enables the users to cut any part of a video in MPG, WMV, MP4 and FLV format so that it can be saved to the computer easily. The software is designed specifically to detect the hardware configuration of the system and chooses the appropriate scheme to cut the video. This Free Video Cutter can be used for a wide range of videos. Although it lacks a wide variety of options, the Free Video Cutter tool can be used effectively to trim video files. It is a simple and easy to use tool with no complexities.