Free DVD to ISO Converter
Screenshots of Free DVD to ISO Converter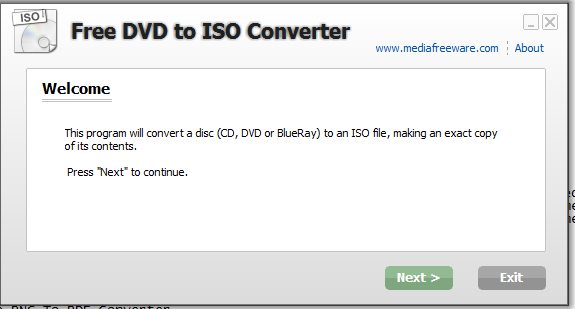 Last update
Licence
OS Support
User rating:
03 January, 2014
Free
Windows XP, Windows Vista, Windows 7
Free DVD to ISO Converter
The free DVD to ISO converter tool is designed for easy conversion of DVD disc to ISO file format. The entire program is designed as a wizard. Therefore the users need to follow a few simple steps to complete the conversion process. This free converter tool can make ISO images from media DVD and data DVD disc. The free DVD to ISO converter tool can be used to work with data and media discs which include both DVDs and CDs. This converter tool is simple and realistic which can be used by beginners and professionals alike. Users are offered the option to choose the DVD files so that it can be converted into ISO files easily. The free converter tool offers a separate setting for advanced users. The program also allows the users to choose the output directory and the track that needs conversion. The free DVD to ISO converter tool quickly recognizes the track and initiates the conversion process to prepare the ISO image. The program displays a simple progress bar which shows the status of conversion and the time left for the completion of the process. The free DVD to ISO converter tool functions quickly as it converts the DVD files into ISO in a jiffy. The program utilizes only a moderate amount of system resources. This free program is completely compatible with Window 7 versions. However, it operates smoothly on other Window versions too. This converter tool also offers the option to store a back up data on the hard disk of the computer or any other storage device. The free DVD to ISO converter tool is a simple app that facilitates in the process of converting DVD files into ISO format easily and quickly. This software converter tool is efficient and completely free.