Free DVD Label Maker
Screenshots of Free DVD Label Maker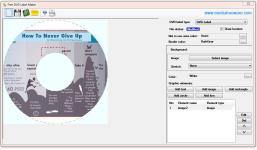 Last update
Licence
OS Support
User rating:
03 February, 2014
Free
Windows XP, Windows Vista, Windows 7
Free DVD Label Maker
The Free DVD Label Maker is a simple software tool that is designed specifically to personalize music and movie collections in DVDs and CDs. It has a number of handy features which makes it an effective program. The software program has a clean and simple user interface which is quite easy to manage. It is easy to navigate through the single screen and select the commands. The program allows the users to customize the labels according to the sizes and designs of the DVD and CD cases. The program includes a set of templates which can be chosen according to the type of CD or DVD case. This free software program also allows the users to insert images, clipart, text and many more. It is also possible to draw rectangles, circles, lines with a pencil tool provided in the application. The program also displays customized settings for text such as the font name, size, color and style. Users can also choose the background of the application which can either be a solid color or an image. The program offers the option to disable the background image too. The Free DVD Label Maker also includes a setting screen which displays various options such as modify the color and size, grid type, measurement unit, theme and interface language. Users can also flip the objects; send it to the back and front, display a grid, disable the tool bar and many more. This free Label Maker software includes a standard green wave design but users can alter and customize the design. It is also possible to name the artist, title and other information on the cover. The Free DVD Label Maker is an effective and simple program that is designed for a perfect performance. The program provides an effective labeling system with a simple procedure.