Free Clipboard Manager
Screenshots of Free Clipboard Manager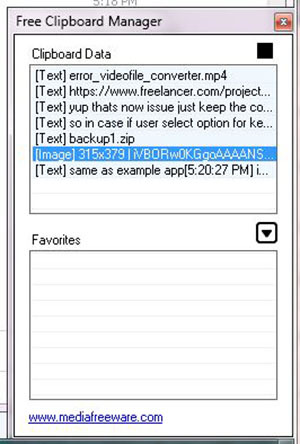 Last update
Licence
OS Support
User rating:
05 January, 2014
Free
Windows XP, Windows Vista, Windows 7
Free Clipboard Manager
Copying data on Clipboard is something which everyone uses, since it is convenient in many ways. However, in order to manage the same without forgetting important ones, the Free Clipboard Manger is the ideal solution. It supports images as well, apart from text and hence, is a comprehensive tool. It enables the user to copy all such content in hard drives, portable devices, etc, so that there is no reason to memorize the same. Being simple and lightweight, it can be used by anyone who uses Clipboard on a daily basis. The best part of the Free Clipboard Manager is that the user can view all the copied data at one place. The software does not need any installation. Just by running it on the device, it is good to go. The user can use it once it is unzipped and this can be done within a matter of a few seconds. Once this is done, the software automatically copies anything on the Clipboard on to the Manager so that it can be accessed whenever there is a requirement. Apart from this, the Free Clipboard Manager also enables the user to copy the content on Clipboard to his or her favorites list. It can be saved in folders as well. Editing such content is also another feature which makes this software a very useful tool. When the user is done with the copied content, the same can be deleted within no time. So, it is ideal for all those users who work on multiple screens simultaneously as their work is managed better. So, users can now cease worrying about their Clipboard content as this app does the work for them. The Free Clipboard Manager is software that is straightforward and supports any versions of Windows, including XP and 8.
.