Free 3GP Player
Screenshots of Free 3GP Player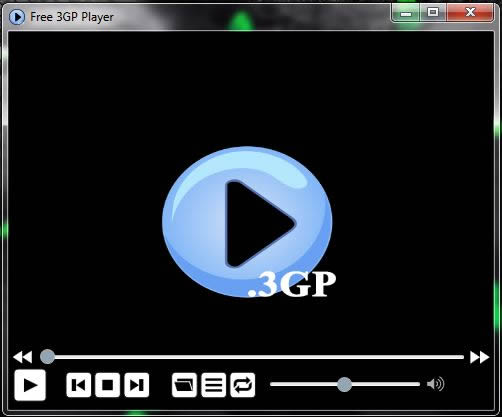 Last update
Licence
OS Support
User rating:
29 July, 2013
Free
Windows XP, Windows Vista, Windows 7
Free 3GP Player
Have you ever used 3gp format on your smart phone at all? Do you know how to play it smoothly on your PC? Well, you can use Free 3GP Player. It has been created to play your 3gp video files smoothly. 3GP format is one of the most popular video codecs and has been used for many years mostly in mobile phones. It is very simple and easy to use. The application has many great features. The user interface is very simple yet very attractive. It has a control panel which hides when it receives no mouse movement from user. It has essential controls like Play, pause, Stop, Fast Forward, Rewind and all other common controls in a video player application. There is also a context menu and you can control playback if you don't like to do it with bottom panel. The use of minimum system resources like small amount of RAM makes the player great and very powerful in performance so it can be used even in old PC and laptops. Another good feature about this video player is that it supports hotkeys for controlling playback. You can press Space key for Play/Pause, Esc for exiting from full screen, P for previous track and many more which we recommend you to try them all. The playlist is another good function which makes it easy to customize the playback of your media. Once you have tried this player, you will be a fan of it for sure. Some of key features of Free 3GP Player are:
Playback of all your 3GP video files
Minimum amount of RAM and system resources used so it can run on old PC and Laptops
Hotkeys work like Windows Media Player with same keys functions
Very attractive and user friendly interface
Compatible with all versions of Microsoft Windows
.